"A tab? Can't give ya a tab, unless ya order something."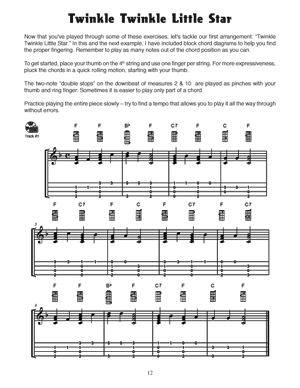 Day 7 of I.S.A. and I can prove this by playing a fingerstyle ukulele arrangement of "Twinkle Twinkle" at about 65-bpm. I also joined the weekly Old Time jam at the
Lowlands
on Monday, strumming a D chord on upbeats for about 65 minutes straight. There were occasional G's, C's, and A's but the major forearm and fingertip strength was tested on that endless D.
Still, in terms of difficulty, upbeat strumming doesn't hold a candle to
Mel Bay's Learn to Play Fingerstyle Solos for Ukulele
method, edited by Mark Kailana Nelson. It's good stuff. Had me reading tablature in two days! I will definitely make use of these budding uke skills in my songs.
Progress today: An hour on the ukulele, an hour practicing
Joplin rags
and
montuno figures
on the piano, two hours playing horn during quintet rehearsal. An hour at the gym, plus an hour listening/studying the piano parts to my favorite salsa tunes.
The two things I haven't done yet are 1) sing and 2) write/edit a song. Ergh.
It takes courage to steal fire from the gods. Tomorrow we climb.